Applying our strengths to make a difference
The world's challenges are becoming greater. You, our future employees are looking to companies and governments to be more accountable and to act for the sake of generations to come.
In Schlumberger, we have a long, global history of environment and social stewardship. Our approach draws on our global reach, diverse multinational team, technology leadership and innovative spirit — so that what we do makes a difference.
Decades of 'recruiting where we work' has resulted in the most diverse workforce of almost any company in the world, fuelling innovation and giving us an unrivalled global reach. The next step is to achieve 25% gender balance at all levels of the company.
We contribute to the communities in which we live and work through Schlumberger Excellence in Educational Development (SEED), which has provided students across 46 countries access to internet, computers, robotics, and other science equipment; and HSE for Youth workshops where we share expertise with young people on injury prevention, personal security, internet safety, and climate change. Recently, we launched a joint initiative with the American Heart Association to encourage everyone to participate in overall heart wellness.
The Schlumberger Foundation Faculty for the Future program awards grants to women from developing countries so they can pursue a PhD or post-doctorate studies in STEM disciplines at a leading university and then return to their home country to strengthen STEM teaching and research faculties of their home institutions.
We have invested heavily in research and technology development to solve industry problems for more than 90 years and today develop technologies that minimize our environmental footprint such as HiWAY that uses 25% less water and substantially less proppant than similar services.
We have chosen to partner with the Solar Impulse Foundation to help select 1000 profitable solutions to environmental issues based on five of the United Nations' Sustainable Development Goals to protect the environment. These will be presented at the UN COP24 at the end of this year.
For Schlumberger, being a global steward is not only fundamental to who we are, but what we do today, and how we will continue to navigate our future.
2018 Schlumberger Global Stewardship Report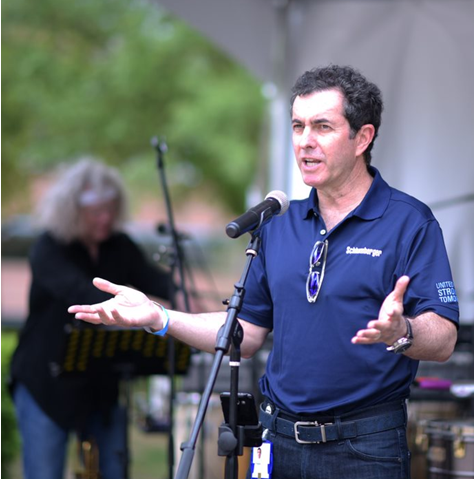 Jean-Francois Poupeau speaking at the Schlumberger United Way Picnic, Houston in March 2018.
United Way of Greater Houston aims to improve lives and build a stronger community.