Eureka Moments
At Schlumberger, knowledge communities and special interest groups within the company assist with our work on the world stage addressing the industry's technical challenges, whilst remaining at the fore-front of innovation in our sector.
Launched two decades ago, the Schlumberger knowledge management system, known as Eureka, encourages employees around the globe to share their collective expertise across the company's day-to-day activities. Our Eureka communities range from Chemistry and Geophysics, Mathematics and Supply Chain, to Data and Analytics.
Providing a limitless scope of learning, Eureka also connects users through discussion boards - empowering employees to explore their potential, have strong visibility, and grow in their careers, as they share challenges, ideas, and knowledge in a space where anyone can ask, and anyone can answer.
"Schlumberger has long been committed to having a culture of collaboration with a focus on knowledge-sharing, technical innovation, and teamwork. The strong culture of this knowledge-sharing approach enables people to connect, collaborate, and learn from one another daily," says Susan Rosenbaum, Director of Discipline Career Management and Knowledge Management.
To celebrate the 20 years since Eureka began connecting people and enhancing technical knowledge, events have been hosted at Schlumberger facilities worldwide. Today, there are over 32,000 members spread across 31 communities, and 120 special interest groups sharing daily insights that help shape and develop the first-class products and services we deliver to our customers.
Eureka enables our employees to build their strengths, and shape success. Learn more about knowledge management at Schlumberger in the company's Global Stewardship Report.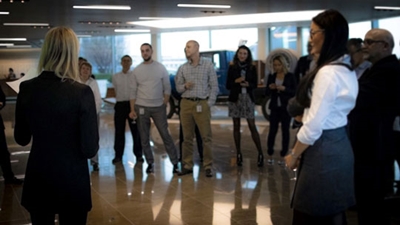 Employees celebrating 20 years of Eureka at one of our 58 global anniversary events.