Seeking Adventure...on Seven Summits
Zac Mahlum is no stranger to challenging situations.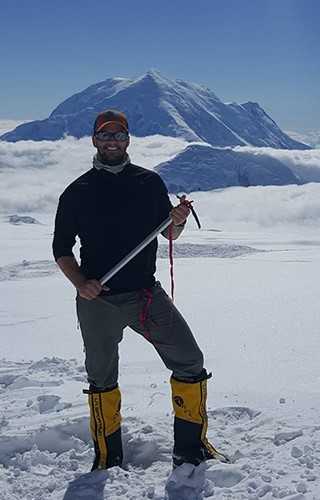 So when a colleague suggested some years ago he climb a mountain, he decided to take it a step further (literally) and set himself the challenge of climbing the tallest mountain on each continent—the Seven Summits.
At 8:04am on May 18th this year, Zac successfully summited Everest, which means he has now completed six of the seven climbs.
Africa- Mt.Kilimanjaro, 2011
South America (Argentina) - Mount Anconcagua, 2014
Antarctica - Vinson Massif, 2015
Europe (Russia) - Mount Elbrus, 2016
North America (Alaska,United States) - Denali, 2017
Asia (Nepal) - Mount Everest, 2018
Australia - Mount Kosciuszko, 2019 (Planned)
What does it take to climb Everest?
Preparation and training are vital. Zac says, "Humans aren't meant to survive above 25,000 feet, an altitude above which is only suitable for passenger jets and other aircraft. In the "Death Zone"—the top 4,000 feet of Everest—there is not enough oxygen to sustain the human body, your internal temperature drops, you lose feeling in your extremities, and your body starts shutting off non-critical functions. Your brain goes into a hypoxic state, decision making becomes more difficult, thought processes slow down, and your logic becomes irrational."
He continues, "I trained with a former US Winter Olympic Coach and worked with the doctors at the Memorial Hermann IRONMAN Sports Medicine Institute. Training is a commitment and involves around 15–20 hours a week."
The highest town in the world
Zac and his team spent around 6 weeks at the Everest Base Camp, acclimatizing, training and waiting for a weather window for a summit bid. Located on the Khumbu glacier at an altitude of over 17,000 feet, the extreme conditions require around 4,000–5,000 calories with at least 4–5 liters of water daily to deal with the conditions.
Reaching the summit
It took Zac and his team 10 hours to reach the summit, and it wasn't without obstacles. He explains, "The mountain really challenged us that day. But we remained resilient and of course, all our preparation paid off." Zac carried a Schlumberger flag to the summit signed by his colleagues to demonstrate his appreciation for their help and support.
Dream big
And he's adamant that no one should be afraid to follow their dreams. He adds, "I appreciate the opportunity that Schlumberger has given me to achieve something that means a lot to me. By taking time out to truly disconnect has meant I've returned to work truly engaged."