Prepping Veterans for Civilian Work
Schlumberger Takes the Lead in Preparing Veterans for Civilian Work.
"The right veteran can have a powerful impact on your business," says Nick Tran, Community & Veteran Affairs Manager at Schlumberger. So, building a global veteran program that understands the uniqueness of their job search and having initiatives in place to support them in their continuing transition into the civilian world goes a long way.
Tran continues, "Schlumberger is not only taking a leading role in hiring veterans, but also in empowering them through recovery and transitional support. "We focus on broader life skills by offering mentoring, help with the creation of career plans, and coaching for interviewing opportunities, all of which help individuals to translate military experience into a successful career."
Tran explains, "We seek and hire the top talent from around the globe and this diversity of expertise, experience and backgrounds are fundamental to our success."
Tran recently attended the NATO Military Veteran Empowerment and Transition Summit in Kiev, Ukraine, where a host of organisations and speakers shared best practices for the reintegration of veterans to civilian life.
He concludes, "At Schlumberger, we are taking a holistic approach to veteran recruitment and a significant part of this is recovery and transitional support—how to improve the lives of service members, veterans and their families.
"I like to think we are leading the charge within the energy industry— and that through initiatives like workshops, visits to military bases, and donating time and resources to relief charities and community organizations we are improving the lives of people who served in the military."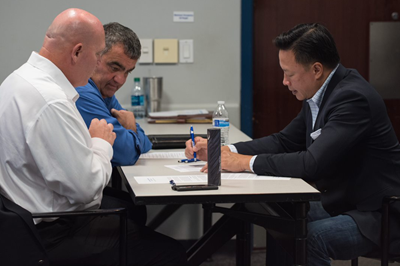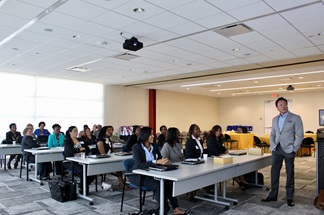 Nick Tran advising former service personnel on the transition process at various events.