Workplace Diversity
Schlumberger Recognized as a Military Friendly Employer and Among Best Employers for Diversity.
Schlumberger has been recognized as a Military Friendly Employer—an annual survey which identifies organizations demonstrating commitment to career opportunities for veterans as well as investing in programs that improve their lives.
Nick Tran, Community and Veteran Affairs Manager notes, "This is the first time Schlumberger has received this award. It reinforces our commitment with the military community, and we hope drives more interest in our organization from former service personnel."
"We fully support equality and diversity in our workplace and believe it's in our best interests, and all who work for us, to ensure that the talents and skills available throughout our global community are considered when opportunities arise," says Tran.
One of the company's greatest strengths is the diversity of its workforce, with employees of many nationalities and backgrounds working together and sharing common objectives. Schlumberger does not have a 'nationality' which describes its culture, but operates in a truly global fashion throughout the world. The company is cited among organizations in the 2018 Best Employers for Diversity rankings.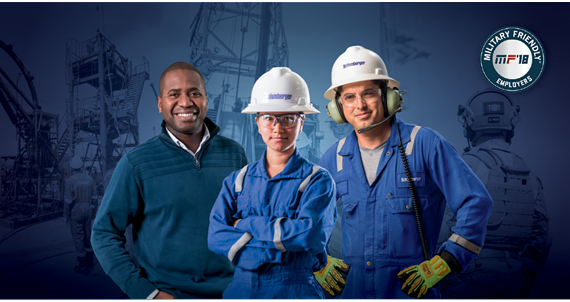 Related resources
Supporting Former Service Personnel
Workforce Diversity